Everyone with a garden should have a fruit tree. They are a source of tasty produce with zero food miles. They also lock up carbon during their lifetimes. Through A Fruit Tree for Every Garden in Fife we want to help people source free or affordable fruit trees and learn how to take care of them. Here are just a few of the benefits of having a fruit tree in your patch.
Free fruit: enjoy apples, pears, plums and cherries freshly picked from your doorstep
Fresh and delicious: your own fruit will be tastier, fresher and more nutritious
Good for the climate: homegrown fruit reduces your carbon footprint and trees store carbon throughout its life
Good for nature: Trees provide shade and shelter for wildlife
How to plant a FRuit tree
This short video shows how straightforward it is to plant a fruit tree in your garden. You only need some basic equipment, some time and a tree! For more information about planting a fruit tree, read our Fruit Tree Planting and Care Guide.
Free trees
This winter, we are giving away a limited number of free fruit trees for people to pick up and plant in their gardens. To find out where you can collect a tree, please share your email address using the form on this webpage. We will be in touch with more information.
more resources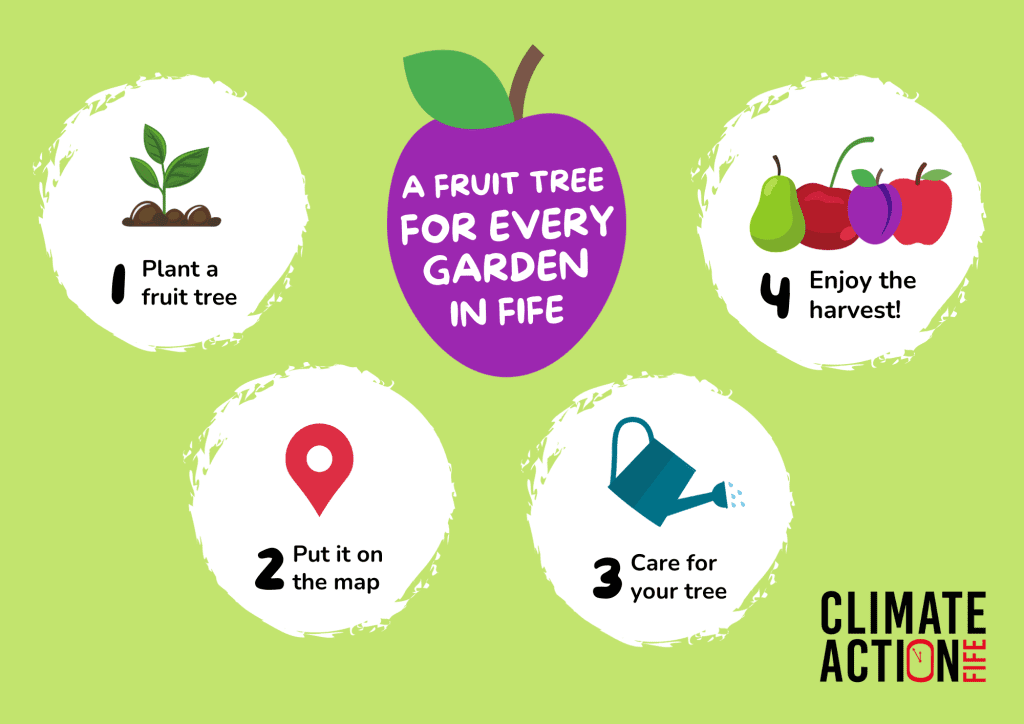 already have a fruit tree in your garden?
Great! We hope you are making the most of the fresh fruit on your doorstep. Please add your tree to our Green Map to help us build up a map of Fife's fruit trees.
We hope you are enjoying the fresh fruit on your doorstep. This winter we are hosting workshops to help people learn how to care for their trees. We will be share full details on our events page.
Please add your fruit tree to our map to help us find out where Fife's fruit trees are. You can also have a look at our care guide to find out how to get the best results from your fruit tree.
Don't have a garden?
Don't worry! There are lots of ways you can get involved. There will be opportunities to join tree planting days at community gardens and orchards. You can also become a Fife Tree Warden to help look after local trees and woods. 
If you have a small garden, a patio or a balcony, you can grow a fruit tree in a pot. These have a shorter life but they will produce fruit sooner and may live for up to 10 years. Growing in a pot is also a good option if you are renting or plan to move within a few years.
You can also help map fruit trees across Fife on our Green Map.